What to Expect - The Kimberley 2023
What's on, what's not. Who's open, who's closed, who's changed hands.
What's new and what to expect.
Bridges, Road Access, Crime/Safety, Fuel Prices, Staffing, Medical Access, 
THIS IS YOUR GUIDE TO THE KIMBERLEY IN 2023. 
2022 was a pretty tough year across the Kimberley. Severe staff shortages, multiple closures, supply chain interruptions and cancellations. Tourism Operators sighed in relief at the end of 2022 with renewed optimism for 2023. 
And then the Fitzroy Bridge went down in the first week of 2023. After two years of closed borders, we were getting pretty used to being a giant cul-de-sac... but seriously, you couldn't make this up! 
What's the Bridge situation at? 
It can be broken into 3 parts. 
1. The Old Fitzroy Low Level Crossing has been rebuilt, essentially. Culverts have been installed and loads of rock donated by BHP have been laid by some very dedicated road workers. It did open initially on the 3rd of April but some unseasonal late season rain stalled that. Normally that region gets 30mm for the whole month of April so it was, in fact, unseasonal. Wohooo - the bridge opened on Thursday the 20th of April - and Caravans are permitted to cross! 
2. Another low level crossing at Fitzroy Crossing - suitable for heavier trucks and transport is being built simultaneously and is expected to be open in mid to late May. 
3. An entirely new double lane bridge that's designed to withstand major floods will be built by the end of 2024. The new bridge will be wider, longer and six times stronger than the original. 
Updates can be found on this Facebook Group (Kimberley Floods) and Main Roads - Kimberley Website. 
So deep breath in, here we go again. Some places have closed - in positive news - other places have opened up! 
What's open? Let's start with what was closed in 2022 but reopening in 2023. Welcome back guys! 
Home Valley Station – Balanggarra Tourism
Honeymoon Bay and Kalumburu 
The Pumphouse (Lake Kununurra) - wowsers, the Wine List is very sophisticated, and the menu is daring and delicious! The Whiskey Sour is spot on.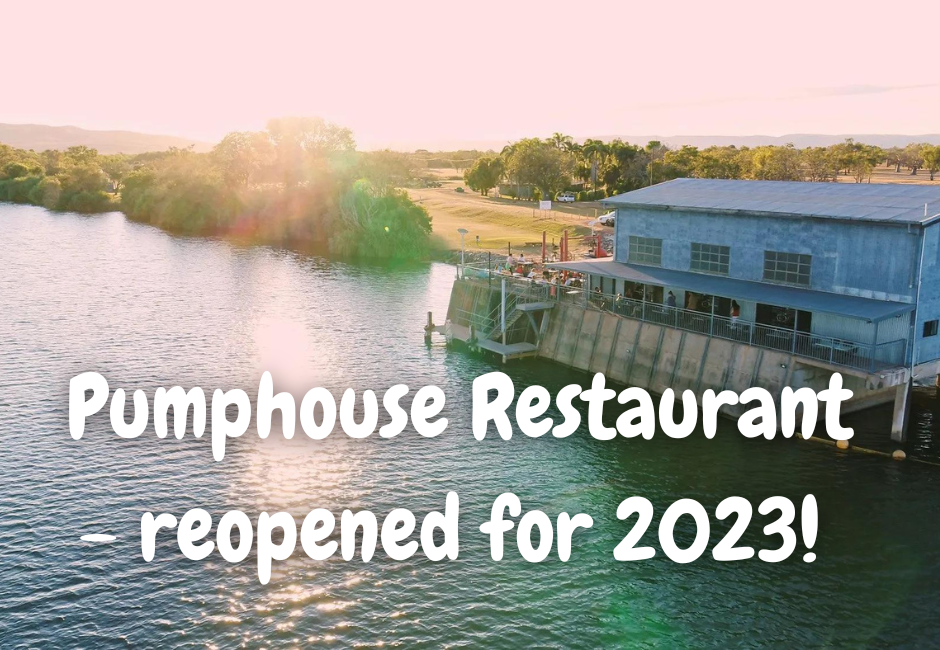 Food Service at the Hoochery – in addition to the drinks, tasting paddles and boutique award winning liquor sales (and the RUM CAKE) the Hoochery Distillery is up and running with lunches and food service. The Chicken Cordon Bleu is delicious! 
Diggers Rest Station opened for part of 2022, In 2023 they will be opening on May the 1st. This is absolutely beautiful country and some of the most magnificent horse riding background. 
What's still closed? 
Charnley River Wilderness Camp
Diggers Rest Station - to be confirmed either way 
Kooljaman – but we hear Brian Lee is still operating his tours. This closure is about funding, not Covid. 
Mornington Wilderness Park - according to their website. 
What will close in 2023? 
Probably the biggest one is Windjana Gorge and Campground. There was simply too much flood damage done to the infrastructure out there. 
Geikie Gorge near Fitzroy for the same reasons. 
What will open late in 2023? 
The Bungles - Purnululu National Park - normally the crew with Park and Wildlife manage to get this beauty open in early April. The heavy wet season this year means it will be delayed probably until May 1st. This is still a tentative date. 
Tunnel Creek (Dimalurru) - The word around is that it might not be open until June. 
El Questro Gorge - ELQ has been hit with a LOT of water and it'll take some time for the deep water crossing to come down. Hopefully it's not a long wait as it's stunning! While it might open late, the upside is that Amalia Gorge is open and will run for a lot longer than usual. 
Going AHEAD! 
The 2022 Boab Metals Ord Valley Muster had to be postponed last year. This cracking Festival is back for 2023 with Wild Walks, Art in the Park, Yoga Boats, Comedy Shows and of course - The Aviair Helispirit Kimberley Moon Experience featuring Birds of Tokyo and Toni Childs. The 2023 Kimberley Moon Experience is on the 20th of May. The Ord Valley Muster runs from the 19th to the 27th of May, 2023. 
Which Events are Still Going Ahead? 
Other events include
- The Lake Argyle Swim on the 6th of May, 2023
- The Top End Mustering Rodeo on Saturday, May 27th 2023 at the Kununurra Rodeo Grounds 
- The Ord River Paddle on May 27th, 2023. 
- The Derby Boab Festival in June 30 - July 17, 2023
- The Kununurra Agricultural Show - Friday 14th and Saturday 15th of July 
- The Broome Race Round from May to August
- The Kununurra/Wyndham Race Round August/September
- Mary Island Fishing Club Derby Mud Crab Races
- A Taste of Broome on August 25 - 27th of August, 2023
Up in the air
Go Horizontal Tours (although Horizontal Seaplane Adventures are taking Bookings and open April 17)
Is it worth going?
Look – how much time have you got? If you say I've got anywhere from 2-4 weeks to travel you'll find every day full and busy with new adventures.
If you've already seen a lot of these highlights and had your heart set on a few of these places that are shut, maybe it's not the year for you.
Pssssst, An insight….
What do we think the year will look like? We know for certain that it will have a slow start. Our prediction is once that Fitzroy River low level Crossing is fully operational and after the first images of caravans criss-crossing the West Kimberley come out then there will be a wave of road travellers descending on the Kimberley. If you're planning on coming this year, consider making your bookings ahead of this late wave or just as soon as possible after the crossing is operational! 
Last year we saw a number of operators close and events cancelled. Some people decided to delay their trip. What are the chances that they are now kicking themselves? Our advice? Focus on what you can do - and consider this. The 2022/23 wet season, while destructive, has also been phenomenal. Personally, I've never seen a wet season provide such sustained rain over such a long period of time. What does that mean? The country has never looked this good and the waterfalls will be pumping. And the way that bookings are looking, crowds will be thinner. Perhaps this is actually the BEST year to do the Kimberley?!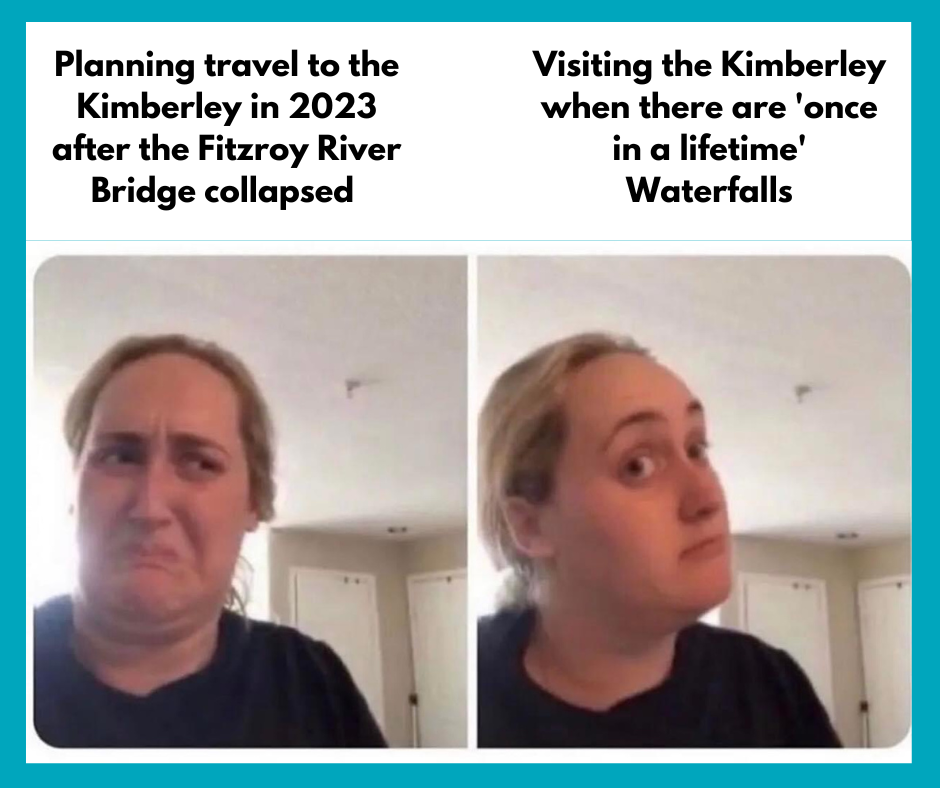 What's New for 2023?
The Kununurra Splash Park! It's free and so much fun. Hours do vary including slide hours but they open 7 days a week.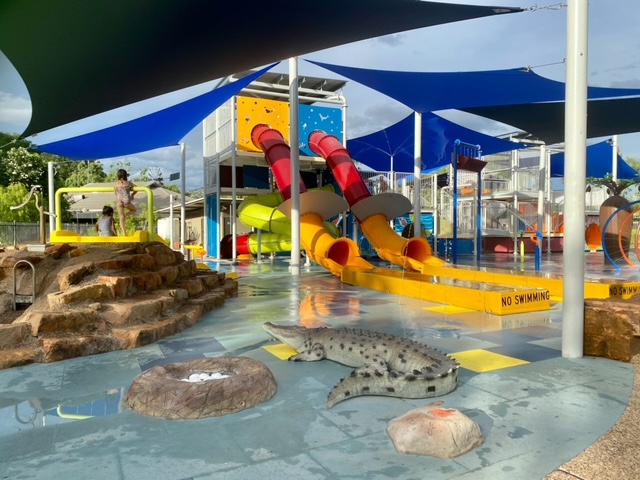 Kununurra Kamper Hire have now changed their name to Kimberley Adventure Hire and have expanded quite significantly. They now offer 4WD Vehicle Hire, Off-road Camper Trailers as well as Camping Equipment. 
The Gourmet Camp Oven Experience has relocated closer to Kununurra. Josh and Tamsyn will be setting up a beautiful atmosphere in a private location. This is a very popular dinner event and we do recommend booking ahead! 
Crime and Safety
Even though this article is about the Kimberley, we're going to discuss this topic from the perspective of Kununurra. What we are finding in Kununurra is that while there has been some car thefts - cars and caravans that are kept secure are not being stolen. 
Regardless of what town, caravan park or campground you are staying in - we encourage visitors to do the same as they would if they were at home - lock up at night, secure your belongings (including your belongings outside), don't leave your keys out and visible. Thefts that occur are opportunistic. 
Medical Access
At the moment not all Medical Centres are offering face to face appointments and like many places, are short staffed. Come prepared. Plan your trip with your GP. Get your scripts and repeats and actually fill them. Take your Patient Health Statement with you, get your tests up to date before you leave, get the flu shot and take out both Ambulance Cover and Travel Insurance.
We are not sure what the situation is like in other parts of the Kimberley but can say that in Kununurra it takes 2-3 months to get a GP's appointment - it's hard to imagine that it would be much different across the Top End of Australia. 
Staff Shortages
It's not as dire as last year. There seem to be a lot of backpackers eagerly asking for employment. Many operators are bringing in Seasonal Workers from the Pacific and local Chambers are working on Visa extensions.
We hope you all embrace these International Visitors and the vital work that they do here. 
Fuel Prices
Gahhhh, it's not pretty is it? At the very least we can say here in Kununurra we've got some of the cheapest petrol in the country. Our locally owned CGL 24 Fuel Depot sources petrol and diesel direct from SE Asia. Otherwise, slow down and travel light! 
Property Update - Which properties have sold?
Mt Hart has changed hands. Their social media accounts give us plenty of confidence that things will run well out there this year. 
The Pumphouse on Lake Kununurra has found new (but still local) owners - THANK YOU! 
If we've got anything wrong in this article or if there's anything missing (maybe you want something to be included), let us know. Cheers. 
The Kimberleyland Crew.