Found! Family friendly caravan park in the magical part of Kununurra
The great thing about showing your kids the outback is they find its wonders just as mesmerising as you do. In central Kununurra there is a family friendly caravan park that fronts the magic of the Kimberley landscape, with its orchestra of birdlife and lily pads on the lake.
Here, the wilderness comes to you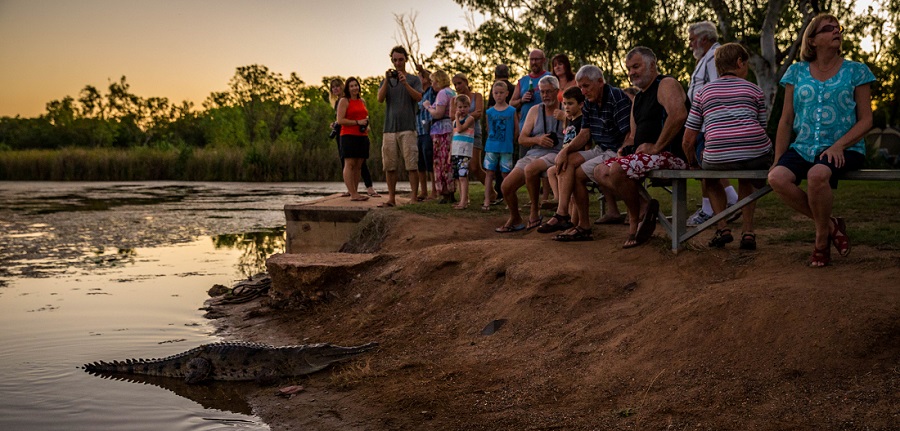 The lookout point is a very popular spot for sunset for families and other travellers alike. Most afternoon "Gummy" our resident crocodile emerges for some photos. Gummy is estimated to be about 70 years old and does not have any teeth. He is of course, a wild animal and should not be fed or approached. New to the park is "Jaws" who usually hangs out closer to the Waterfront Cabins. Jaws has a full set of teeth and thankfully, is a little more shy! 
After a day of picking your way over rocks to water holes or seeing ancient wonders, it's the place to be. Some days there's live entertainment and everyone is invited.
Family comforts and contemporary chill zones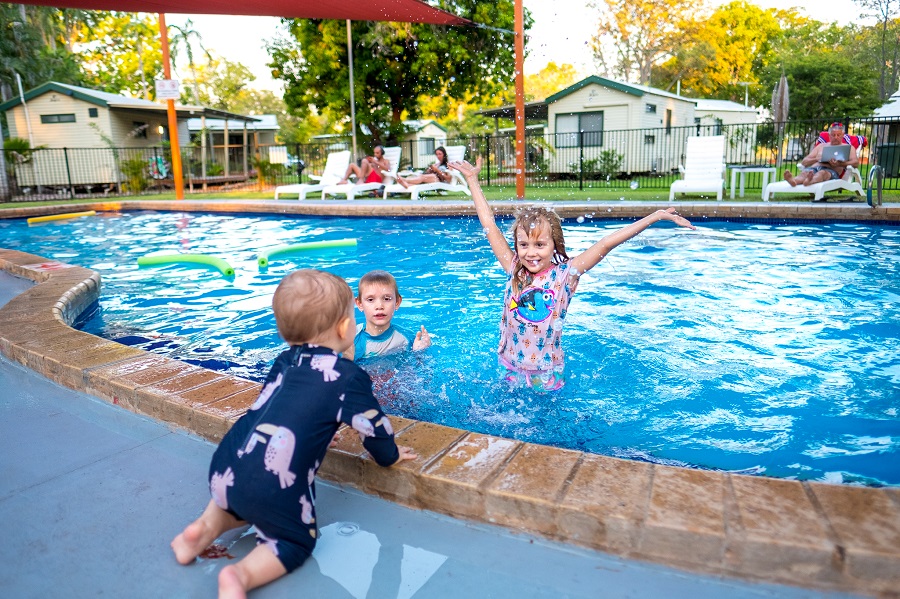 While the immersive landscape works its magic, it's refreshing to find modern, privately keyed family bathrooms set amongst the sites and landscaped gardens. The Park has its own Container Cafe, 'Spilled the Beans', whipping up milkshakes and baby chinos. The architectural outdoor kitchen, dining and entertainment hub (with USB charging station) is an ideal chill zone for kids of all ages. At night you can BBQ, unwind and relax surrounded by the sounds of the Kimberley.
Some days you might not get further than the tropical pool under the palms in the garden, but that said there is no shortage of things to see and do and learn about here for families.
True to its nature
This family friendly caravan park in Kununurra is home to a small and quite rare creature. The park cares for a beautiful Gouldian Finch, Star Finches and Painted Firetails. While you can expect many native animal encounters during your stay in the Kimberley, this one is a close-up glimpse of a native that is rarely seen in the wild.
A great base to branch out
The Kimberley is an ancient part of Australia and one of the world's last wilderness frontiers. Our kids need to see it. They should get an understanding of the age-old culture of its people and have fun discovering its waterways.
From your central Kununurra location you can access Triple J Lake Kununurra River Cruises, Lake Argyle Cruises and Tours and Mirima National Park. Kununurra is also a good start and end point for both the Gibb River Road and Bungle Bungles road trips. Or simply cross the road from the Park and enjoy discovering the Celebrity Tree Park and Playground.
Finally, there's one thing that is a make or break to the meaning of "family friendly" and that is the people you encounter and how accommodating they really are to families. There's a consensus amongst visiting families that the staff at Kimberleyland Waterfront Holiday Park Kununurra are perfectly helpful and friendly.
We did say this was the magical part of Kununurra! 
Family Deals
Are you looking for a family deal? Outside of peak season Kimberleyland participates in the TAWK program where kids stay free for the first two nights. Talk to our staff about the deal!